WARREN DALY OAM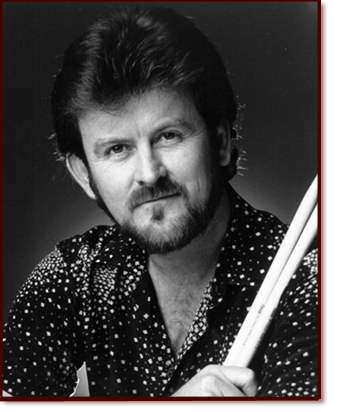 An extraordinary Australian musician,
drummer, bandleader (Daly-Wilson Big Band, Warren Daly Big Band)
educator and composer/arranger
With a musical career spanning 5 decades, Warren Daly is a musician who has brought his art to the level of virtuosity: that is, someone who plays with consummate skill, whose instrument and music is an extension of the personality – like all good musicians, he means business.
Having started playing at the age of 10 and taking up a full time career in music from 18, Warren is a brilliant drummer with extensive experience in Australia and the United States where he has played with some of the foremost bands, both large and small.
After starting out as a rock and roll drummer and bandleader, he moved out of that genre to his real passion: jazz and big bands in particular.
Playing through the late 1950's and 60's in Sydney, he was in high demand for both live jazz concerts and recordings. He played with the popular big bands of the late 1960's and then moved into television orchestras as staff drummer. In late 1967, he was invited to the USA to tour with the Kirby Stone Four as their regular drummer. Three months later, Warren was offered the drum chair with the Si Zentner Orchestra, touring with this exciting and dynamic big band. Later in 1969, he left this band to join the Glenn Miller Orchestra, led by Buddy de Franco and toured through 38 states of the US and Japan and Korea with them.
It was whilst performing in New York at the famous Riverboat restaurant in the Empire State building, that George T Simon (author of 'The Big Bands') proclaimed on New York radio that Warren was the 'best big band drummer he had heard with the Miller Band since the original, Maurice Purtill.' In fact, the fabulous Gene Krupa was in the audience that night too.
Warren then returned to Australia in 1969 to launch his Daly-Wilson Big Band, together with partner Ed Wilson, on the path to international recognition. It was from his sojourn in the USA that the idealism, passion and energy behind the Daly-Wilson Big Band was born.
The Daly-Wilson Big Band is the only Big Band in Australia's history to be recognised internationally and by both its peers and the public alike. The band blasted on to the Australian music scene in 1969 and throughout the 1970's and 1980's it enjoyed unprecedented success via sold out national and international concert tours. Throughout the 1970's, the Daly-Wilson Big Band was the leading box office attraction in Australia.
The Daly-Wilson Big Band is the only Australian Band that can list achievements comparable to venerable American names Count Basie, Woody Herman, Buddy Rich and Maynard Ferguson.
Warren Daly was the band's musical director and co-arranger, contributing greatly to the band's repertoire, and exacting such a unique and exciting style from the band that his results were regarded as a benchmark for the best big band producers in the world (*source: Frank Sinatra Junior).
In particular, the band's recordings were utilised "as an index of performance standard at Hollywood recording sessions by Frank Sinatra's famous record producer Sonny Burke", who had produced so many of the great Sinatra albums such as Sinatra/Basie at The Sands (*source: Frank Sinatra Junior).
When the Daly-Wilson Big Band disbanded in 1983, Warren continued with his big band, the Warren Daly Big Band, touring nationally, to great acclaim for 10 years. During this time Warren's band performed at major concert venues around the country, as well as celebrating Warren's milestone 20th Anniversary (of running a big band non-stop) as the headline act at the Sydney Festival Jazz in the Domain concert, playing to an audience of 80,000.
A perfectionist, he is literally the driving force behind all of his bands' high standard of performance, conducting all rehearsals and transmitting his skill, knowledge and enthusiasm to each member. Many of Australia's leading musicians over the past 5 decades have learned and honed their skills in a Warren Daly led band.
In 1997 he re-formed his Warren Daly Jazz Quartet with Errol Buddle, Col Nolan and George Golla/Carl Dewhurst/Steve Brien, delighting audiences at numerous Jazz Festivals and venues. The quartet played the original small group version of Warren's Old Glory Civil War arrangement.
His career has been incredibly diverse and he has played concerts or recorded with Peter Allen, Johnny O'Keefe, The Delltones, The Bee Gees, Olivia Newton John, Helen Reddy, Dudley Moore, Frank Sinatra, Sammy Davis Junior, Jack Jones, Sydney Symphony Orchestra, Cilla Black, Paul Anka, Cleo Laine, Bobby Rydell, The Canberra Symphony Orchestra, Karl Fontana, Louis Bellson, Don Lane, Barry Crocker, Errol Buddle, Col Nolan, Sven Liebeck, Tommy Tycho, Don Burrows, Toshiko Akiyoshi and the Royal Command Performance for her Majesty the Queen.
Warren has spent the last two years working on his 'Old Glory' project. He has authored and co-written/ co-arranged (with Martin Anderson) a 40 minute dramatic suite featuring unique treatments of songs from the US Civil War – written for full orchestra. He and Martin have also written an original song called 'A Call to the Sons of America' to which Warren penned the words. These works have just been completed and recorded by Warren and his Philharmonic Orchestra.
When not involved with music, Warren enjoys Historic car racing, watching his favourite Dragons play rugby league, collecting stray animals, travelling and relaxing with friends.
He has been happily married for many years to his wife Karen, the successful author of the Fats & Figures range of books.




© 2010 Warren Daly Productions Pty Ltd